In order to be a reliable technical partner for its customers and distributors, Airtech has established training facilities.
The initial standard training programs are related to :
Prepreg / autoclave processing
Resin infusion processing
Composite Tooling
Further topics can be presented upon request.
Airtech UK engineers are available to offer theoretical and hands-on training courses in manufacture of composite parts utilizing our products. The training programs take account of economical and quality aspects : participants will learn how to produce high quality composite parts and reducing production time, eliminating waste and controlling cost.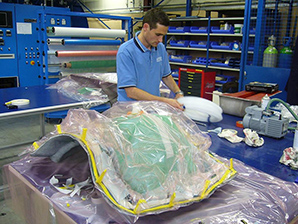 The training center includes a conference room and a composite shop with autoclave.
Airtech UK can provide training for up to 16 people simultaneously. Please contact your Account Manager or Lead Customer Service Hannah Painter for further information
For further information on our products and services, please contact :
www.reducetouchlabor.com
www.resininfusion.com
www.peelply.com